In the footsteps of Margareta
'In the footsteps of Margareta' is a handy brochure outlining walks leading to highlights from the fifteenth century when Mechelen came under the rule of the Dukes of Burgundy. You have three circular walks of different lengths to choose from, depending on your degree of interest and the time you have available.
Travel five hundred years back in time to the days when Mechelen was the capital of the Netherlands. As the city was also the seat of Margareta of Austria's court, scores of Burgundian noblemen settled here too.
This prosperous period left its mark on the city and traces of it have survived to this day, including Burgundian palaces, historic churches, wooden façades and sumptuously decorated guildhalls. This brochure takes you back to that rich Burgundian era.
The excellent value Sense-sations package contains vouchers which provide a taste of Mechelen, both edible and cultural.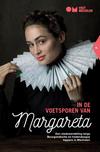 Practical information
On sale at Visit Mechelen
Available in NL/FR/EN/DU/SP
Price: €4,5 or download the digital version here