The Watchmakers' Museum is a museum with a difference. The Op de Beeck family restores antique clocks and watches and over the centuries has amassed a large collection of timepieces dating from 1600 to the present day. The collection contains extraordinary tower clocks, mystery clocks, sundials and much much more.
To find out just how much more, you'll have to pay a visit to this atmospheric museum! You can even have a guided tour. But keep an eye on the time!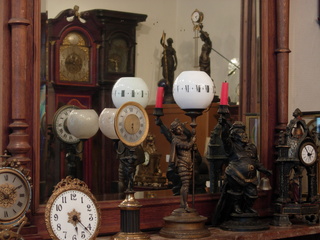 Opening hours
The museum is open for info, booking, repair and restoration, by appointment:
• Monday to Saturday from 09:00 h. to 15:30 h.
On Sundays and holidays the museum is closed!
Price
Groups
Group from 10 to 30 people.
A tour of the museum takes about 1h 15min and is provided in Dutch, English, French and German. The guide is included in the entrance fee. The maximum number of participants per group is 30.
Schools
Group from 10 to 30 people.
Comfort
Access
For more information about access, feel free to contact the musem.