Tower Clock Workshop Michiels
Between the sixteenth and nineteenth centuries, De Clippel was uptown Mechelen's foremost inn. However, it took on a very different role in 1890 when Edward Michiels set up one of Belgium's most advanced tower clock workshops here.

Numerous eighteenth-century features have survived inside the building and the impressive hall with arched stairway still contains its authentic nineteenth-century furnishings. The tower clock workshop is in the garden at the back. Countless mechanical tower clocks and carillons have been repaired here, old mechanisms restored and modern, electronic tower clocks made.

You can visit an exhibition about bell founding.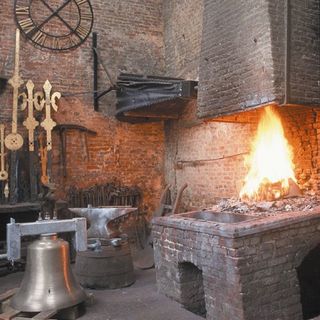 Comfort
Access
For more information about access, feel free to contact the relevant venue.
Contact
T +32 15 42 12 96
E michielsmechelen@telenet.be
W www.michielsmechelen.be
Location
Korenmarkt 6, 2800 Mechelen