Over the years, a succession of artists have left their mark on Mechelen in the form of statues, paintings, street art and so much more, making the cityscape a cornucopia of art. From Lucas Fayd'herbe's 17th-century sculptures to murals by contemporary artists. The walk showcases this remarkable legacy and underlines Mechelen's reputation as a true city of art.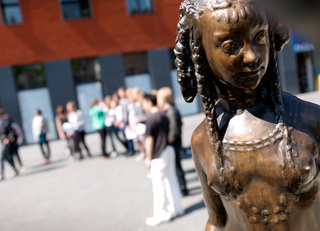 Price
Guide: € 85 (max. 25 persons per guide)
Comfort
Accessibility
For more information about accessibility, please contact Visit Mechelen.
Contact
T +32 15 29 76 54
E visit@mechelen.be
Reservation
Location
Starting point:
Schepenhuis
Vleeshouwersstraat 6, 2800 Mechelen