Many Mechelaars regard the IJzerenleen as Mechelen's Champs Elysées. Fortunately there are fewer cars. The street boasts imposing façades, lovely shops and one of the oldest town halls in Flanders. The IJzerenleen was once a brook linking the Dyle with the Koolvliet; it was also the site of the fish market. The name IJzerenleen derives from the iron railings erected alongside the brook, which are still there today, though the brook was covered over back in the sixteenth century. The fifteenth, sixteenth and seventeenth-century façades are not original. Having suffered damage in the First World War, they were rebuilt following an architectural competition.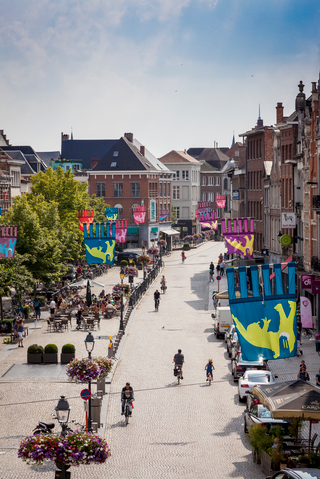 Comfort
Access
Fully accessible by wheelchair
Outdoor cafés can be an obstacle on the footpaths, so wheelchair users may occasionally find they have to move onto the street. This doesn't necessarily entail a change of level. The ground surface consists of flat cobblestones.
Contact
T +32 15 29 76 54
E visit@mechelen.be
Location
IJzerenleen 1, 2800 Mechelen