Originally oats were unloaded and traded here. Oats used to be synonymous with grain and Mechelen had the exclusive staple rights to grain. Boats carrying grain had to tie up in Mechelen and offer the whole cargo for sale for three whole days. Only what the merchants did not sell in Mechelen could be loaded back onto the boats and taken elsewhere.

You can't fail to notice the three houses near the bridge. They date from the sixteenth and seventeenth centuries and are what draws people to the Haverwerf. The corner house is called Het Paradijske, Little Paradise. The reliefs above the windows depict the scenes 'Earthly paradise' and 'The tree of knowledge of good and evil'.

In the middle is De Duiveltjes, The Little Devils, one of the most beautiful wooden façades in the country. We know that it used to be called De Verloren Zoon, The Prodigal Son, because the story is depicted above the front door. Now it is named after the little devils which act as pillars. On the left is the house known as Sint-Jozef; in the middle is a relief of St Joseph with the Child Jesus. Enjoy the waterside!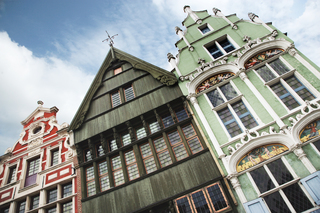 Comfort
Access
Fully accessible by wheelchair.
The ground surface consists mainly of flat cobblestones.
Contact
T +32 15 29 76 54
E visit@mechelen.be
Location
Haverwerf 20, 2800 Mechelen
Click on the blue place marker for more information.