Palace of Margaret of York
Opposite Margaret of Austria's palace you can see all that remains of Margaret of York's palace. Originally the Bishop of Kamerrijk (Cambrai) resided in the building when he was in Mechelen. Margaret chose the vast Court of Kamerrijk as part of her settlement when she became a widow. It is also known as the imperial court because Charles V resided here from 1500 to 1515. Just above the little door in the tower is her diamond-shaped escutcheon, alongside that of her spouse, Charles the Bold. The former reception hall of the palace in now the City Theatre (Stadsschouwburg).

Margaret of York

King Edward IV of England offered his sister Margaret in marriage to Charles the Bold, Duke of Burgundy, who had just been widowed. This arrangement suited Edward since it gave him a rich ally against France. Charles had a daughter from his previous marriage. Mary of Burgundy was just eleven years old when Margaret became her stepmother. The two got on very well together.

Charles was killed on the battlefield and his daughter Mary succeeded him. She was nineteen, young and inexperienced and found herself up against the rich and assertive Flemish cities which were striving for greater independence. Margaret advised and assisted her but was a thorn in the eye of the cities. Margaret was banished from the court and moved to the estate she had inherited from her husband in Mechelen.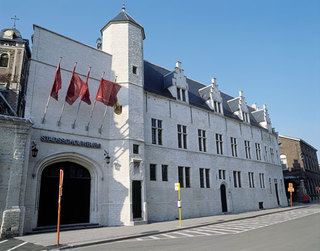 Opening hours
The Palace is currently used as a city theater. It is not open to visitors.
Contact
T +32 15 29 76 54
E visit@mechelen.be
Location
Keizerstraat 3, 2800 Mechelen
Click on the blue place marker for more information.