You will recognize De Zeeridder, or 'Knight of the Sea', by its blue tiles, a clear reference to the sea. The building derives its name from the 'Chevalier Marin' brewery that once stood on this site. The brewery famous for its production of Jagersbier and Supra closed down in 1986. These days the building houses a number of departments of the city council.

There is a wonderful myth attached to this building, concerning a miracle which took place here in 1579. The brewery bought the twelve figures of the apostles and the wooden cross above the rood loft in the Cathedral and used the wood to stoke the brew-kettles. Legend has it that when the brewers checked to see if the beer was ready, they found it had turned to blood.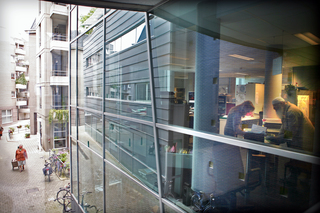 Price
Free
Comfort
Access
Fully accessible by wheelchair.
Contact
T +32 (0)15 29 76 54
E visit@mechelen.be
Location
Befferstraat 25, 2800 Mechelen